RLM Training was incorporated to support RLM Jobs, their Drivers and clients with the new drivers CPC regulations.
As a specialist Driving & Industrial Recruitment Agency RLM Jobs want to offer their Clients, both Driving Personnel & Companies we supply drivers to, professional & discounted CPC Training.
For more information on Driver CPC training, please contact Martin Henshaw on 07500 222456, or martin@rlmjobs.com to discuss courses and dates available. Alternatively please please take a look at the CPC training dates under the CPC training tab above.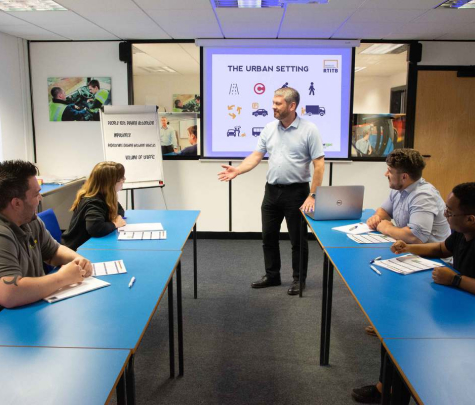 DRIVER CPC compliance, does this affect you? Some Myths explained.
If you passed your test after Sept 2009 you should have completed a DRIVER CPC Initial CPC course in addition to your vocational licence. On completion you will have been issued by the D.S.A. a "DQC" (Driver Qualification Card) which must be carried at all times when driving commercially.
If you have this you have nothing to be concerned about until after Sept 2014. Only then will you have to undergo periodic training. For the rest of us, if you passed your test before Sept 2009, you are currently surviving on Grandfather rights for this, and have to instead complete 35 hours of periodic training before Sept 2014. This can be broken down into 5 x 7 hour courses = 35 hours, as long as the courses are approved by JAUPT (Joint Approvals Unit for Periodic Training). After this date you will need to complete 1 x 7 hour course each year to keep your DQC current, ie 35 hours every 5 years, and ongoing, forevermore, should you wish to remain a professional driver.
You need to comply with this, to qualify for a DQC by Sept 2014, otherwise regardless of experience or how long you have had your licence, you will not be eligible to drive commercially without it. Some of you are part way to complying with this, having done some training with previous employers, different employers have many, many courses registered with JAUPT you can go to the JAUPT website and now check on what training has been completed and what has been registered on the DSA website and from there take the decision of which courses you need to take to comply with the new regulations.
The good thing is that RLM is ahead of the game and will do everything to make sure that we all remain legal to drive well before these regulations come into permanent effect. As another incentive taking this training, "in good time" we have on good authority that many employers will soon be asking potential new employees if you have completed this training.
As you can see, this is to make us all more professional, in what we do, and give us all a qualification to say that we are in an industry full of Professionals.
I hope this helps to clarify things and should you have any further questions, please email
FOR ALL ENQUIRIES AND FURTHER INFO CONTACT Martin by phone on 07500 222456